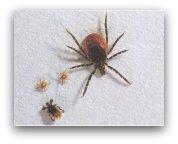 Good health is not the absence of symptoms, it is the presence of peace.
Gesundheit ist nicht die Abwesenheit von Symptomen, sondern die Anwesenheit von innerem Frieden.
See the trailer of the documentation about Lyme-disease "Under our skin" .
Film-Trailer für den englischsprachigen Dokumentarfilm über Lyme-Borreliose "Unter unserer Haut".
Meine Borreliose-Geschichte
Der alles verändernde Zeckenbiss passierte vor 20 Jahren, im Sommer 1988, im grünen Berliner Umland. Zu dieser Zeit war die Infektion durch Zeckenbisse etwas, das man südlicheren Gefilden zuschrieb, und die dazugehörigen Krankheitsbilder waren bei uns weithin unbekannt.
Von Anfang an hatte ich alle typischen Symptome
für eine frische Infektion mit Borrelien:
Erithema migrans, die typische kreisförmige Wanderröte um die Bisstelle herum;
einige Wochen später typische grippeähnliche Symptome, und danach eine konstante Geschichte von symptomfreien Zeiten, die sich mit schweren Krankheitsschüben abwechselten.
Im damaligen Ostdeutschland gab es aber weder die entsprechende Diagnostik noch adäquate Therapien.
Als im Herbst 1989 die Mauer fiel, dauerte es noch etwa ein Jahr, bis unsere Medizin auf dem Stand der restlichen "westlichen Welt" war.
Zu diesem Zeitpunkt war es für mich bereits zu spät. Ich war zwar positiv diagnostiziert, bekam aber daraufhin und viel zu spät und für einen zu kurzen Zeitraum eine viel zu geringe Dosis Antibiotika.
Während und nach diesen Behandlungen verschlechterte sich meine Gesundheit dramatisch. Man fand heraus, dass dies auf mein stark geschwächtes Immunsystem zurückzuführen sei. Ich war sehr krank, schien aber immer wieder Besserungen zu erleben, nur um danach immer schlimmere Episoden der Erkrankung zu haben. Einen ganzen heissen Sommer lang litt ich neben permanenten Schmerzen in allen Gelenken unter hochinfizierter, offener Haut im Gesicht und an den Beinen, die täglich steril verbunden werden mussten; meine Milz war extrem vergrössert, und ich begann Anfälle zu haben. Mittlerweile sah mich die Schulmedizin als zu weit fortgeschritten und gar nicht mehr eindeutig diagnostizierbar, um mir noch helfen zu könnnen. Ich erspare mir hier die Aufzählung all der vielen hilflosen, entmutigenden und zum Teil entwürdigenden Erfahrungen, die ich über die Jahre im Medizinsystem sammeln durfte. Das einzige, was ich damals noch erhielt war ein Angebot, für eines der renommiertesten Berliner Krankenhäuser als Versuchskaninchen zu fungieren. Mir wurde eindeutig gesagt, dass mein Fall zu teuer zu behandeln wäre, und im Gegenzug keine Garantie auf Besserung bestünde. Das war mein Tiefpunkt.
Da es Zufälle im leben nicht gibt, sage ich heute, dass planmässig eine Frau in mein Leben trat, die eine Freundin wurde. Sie studierte damals auf Homöopathie, und weil ich sowohl der Letzteren wie auch der Ersteren vertraute, aber kein Geld für eine private homöopathische Behandlung hatte, fragte ich an, ob ich wohl dort und für sie Versuchskaninchen spielen durfte.
Die nun über Jahre gehende homöopathische Therapie rettete mich, und heute helfe ich mir selber und meinen Tieren mit dieser Methode, mit bemerkenswerten Ergebnissen.
Leider ist das in meinem Fall nur eine Behandlung der Symptome, nicht eine Heilung der Erkrankung selber. Nach 20 Jahren mit Borreliose bin ich milttlerweile invalidisiert, habe kein Gefühl mehr in Händen und Armen, leide an ständigen Schmerzen, CPS, und "Zappelbeinen". Irlands Ärzte stehen vor mir wie die sprichwörtliche Kuh vor´m neuen Tor und wissen nicht, wie sie mit mir umgehen sollen.
Lange Zeit dachte ich, es wäre leichter für mich gewesen, in den USA zu leben, dem "Mutterland" der Lyme-Borreliose, denn ich glaubte, dass man dort mit Diagnostik und Therapie viel weiter sei als in Europa. Nun lese ich mit Erstaunen, dass es unendlich viele Menschen in Nordamerika gibt, die genau die selben Erfahrungen machen wie ich; die z.T. Hypochonder genannt oder auf andere Krankheiten hin fehlbehandelt werden. Der grösste Skandal aber ist, dass das Medizin-Establishment in den USA offenbar das Vorhandensein einer Späten und Chronischen Form von Borreliose, und Neuroborreliose, verleugnet und Ärtzen, die den Mut haben, chronisch Kranke zu behandeln und zu retten, darüber die Approbation entzogen wird.
Ich finde es wichtig, dass sich die Borreliose-Leidenden zusammenschliessen und die Med-Industrie zwingen, die alten schulmedizinischen Denkschemen durch neue zu ersetzen und zu sehen, dass es hier Hilfebedarf in Grössenordnungen gibt, dass Behinderungen vermieden und Leben gerettet werden können.
Und der Rest der Welt sollte um diese Problematik wissen, denn es könnte jederzeit jeden selber betreffen! Eine wichtige Initiative ist der Dokumentarfilm "Under our Skin" ("Unter unserer Haut"), der hoffentlich bald in deutscher Synchronisation ausgestrahlt wird.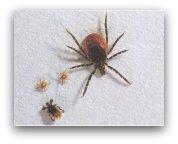 My Lyme-disease Story
I was born in 1958 in East Germany and lived there nearly all my life. Since 10 years I live in an east-coastal village in Ireland.
The all changing tick bite happened 20 years ago, in the summer of 1988, in one of the many green areas around Berlin. At the time, infections with Lyme-disease were associated with holidays in the warmer southern countries of Europe, and very few was known about the illness.
From the beginning I´ve had all the symptoms typical for early stages of Lyme: erithema migrans (the red circle around the bite, also known as "bull´s eye rash"), typical flu-like symptoms some weeks after the bite, and after that a constant history of symptom-free times and recurring episodes of high alerting symptoms. As for the system I lived in, the communist part of Germany had neither the diagnostics for the treatment for Lyme-disease.
When the wall came down in November 1989 there was still a period of up to a year until we had all the medical possibilities, diagnostics and treatment available to the western world. At this stage it was already too late for me. Firstly I was positively diagnosed. But I was only treated with relatively low doses of Antibiotocs for a very short time.
After these treatment periods my health deteriorated rapidly, until we figured that this was indeed down to my weakening immune system. I was very ill, but always seemed to recover, only to get more severely ill - and for longer periods. At one stage I was in permanent pain in all my joints, had highly infected, opening skin in my face and at my legs; my spleen was extremely enlarged and I began to experience seizures. School medicine was seeing me meanwhile as too advanced to be helped properly, and the only thing I received was an offer to function as a guinea-pig for one of Berlins well-known Hospitals.
I will spare you the list of long, agonising and humiliating experiences with doctors throughout the years. The bottom line is, that serious and intensive treatment was ruled out as too costly, because there was no guaranty of a positive result.
This was my lowest point, and I seriously considered to end it all by myself. Fortunate happenstances and "coincidences" made sure that I would not go through with my plans.
At the time I met a woman who was studying for being a Homoeopathist. Since I trusted in this kind of medicine and in this woman, but had no financial means, I asked her if she would take me on as a her guinea-pig. Over a long period not only could she help me, but I learned for myself to diagnose and figure out homoeopathic treatment, which I since use on myself and all my animals with remarkable results. The homoeopathic remedies are the only reason that I am still here.
Nevertheless, they could only help me, but not cure me.
Now, 20 years after infection, I am on invalidity pension and no longer able to do any work. The neurological symptoms of my late and chronic Lyme are ever increasing.
I have no feeling in my hands and lower arms, suffer CPS, restless legs and other neurological failures.
Doctors in Ireland, as long as they have not studied in other countries and had experiences with Lyme, have at best heared about it way back in their student times, and seem to be helpless in how to handle "my case".
For a long time I thought it would have been easier for me to be living in the US, the "motherland" of Lyme-disease, because I believed that diagnostics and treatment would be far more advanced and successful. I am baffled to read about so many people in the US who seem to have the same experiences as me; who are being ridiculed, called hypochondrics, are denied proper diagnosis and treatment. But the biggest scandal of all is the denial that there is indeed a late and chronic, and a neurological, form of Lyme-disease, which is painful, debilitating, and potentially fatal.; and that doctors who offer therapies are loosing their approbation over this matter.
I feel it is very important to strengthen the lobby worldwide to force "authorities" of any kind to recognise the illness and open paths for sufferers to avail of any help possible.
About Lyme-disease in Ireland read under
www.johngormley.com/wp/2006/09/27/lyme-disease/
My reply to this answer by the Minister for Health was as follows:
Dear Minister Gormley,
Searching for any kind of Information about Lyme disease in Ireland I found this article on your Weblog Archive.
As a sufferer of "Late and chronic Lyme disease" for 20 years I am not satisfied with the answer, although it was given some years ago.
I was bitten by a tick in the forests surrounding Berlin, Germany, at a time when Lyme-Borreliosis was not very well associated with the northern hemisphere of Europe. Meanwhile and with the ever-warmer climate it took on epidemic forms and is well known now in Germany. It also is well known that the number of misdiagnosed or undiagnosed cases seems to be very high.
In the United States there seems to be a wide difference in opinion about if a chronic form of Lyme disease exists. As someone who – like so many - was failed big time by school medicine, I can tell you: THERE IS, and it is devastating, debilitating and in some cases deadly!
The fact that it is not directly transferable from one person to the other doesn't mean it should not be looked at like any other transmittable disease, especially since ticks are the transmitters, and they are found in Ireland too.
Living since 10 years in Ireland, my experience is, that Irish GP´s have little or non information about the disease, often only heard of it mentioned in their times in Med School. On the other side I met doctors in our hospitals that were not Irish and/or were studying and working in foreign countries and in the USA. They expressed deep disbelieve and sorrow about the fact that nobody seemed to be able to help me. After a long time of suffering excruciating pains and increasing disabilities on a daily basis, I am now on Invalidity Pension, and my outlook for the future is bleak.
I would strongly advice the health authorities of this country to take into consideration to make Lyme disease a notifiable infectious disease, especially because of the implementations, which are
- early and effective need for treatment to avoid long-term
disability or death,
- effects on possible blood donations,
- effects on pregnancies and resulting births (lyme disease is as much as I know transferable onto the unborn child and will result in the birth of very sick children)
It should be widely known and accepted that diagnostics are not easy and symptoms are in no way typical. Every case is more or less different. Symptoms can occur long after infection, ELISA and Westernblot blood tests can be negative even in an infected person, and there is not even necessarily always a so-called "Bulls-Eye-Rash" (erythema migrans) immediately after the tick bite.
Irish GP´s and consultants should be able to handle and help patients with Lyme disease.
Now being the Minister for Environment, you have a part of the responsibility for this to happen, because - besides the fact that there are a lot of foreign people like me living in Ireland now - the illness will catch up with Ireland itself in times of climate change, which will bring with it a change in tick population.
I hope this information will be helpful.
With regards, Marina Muller, Laytown, Co. Meath